Birth: Dec. 28, 1847
Nottingham
Nottinghamshire, England
Death: Nov. 12, 1927
Pleasant Grove
Utah County
Utah, USA
Daughter of John Fowlke and Harriet Raynor
Married James Cullimore, 10 Jan 1864, Pleasant Grove, Utah, Utah
Children - Elizabeth Lettice Cullimore, Louise Marie Cullimore, Harriet Cullimore, William James Cullimore, George Alfred Cullimore, Clara Roszinnia Cullimore, Earnest Cullimore, Verne Angus Cullimore, Maria Louisa Cullimore, Etta Caroline Cullimore, Albert Lorenzo Cullimore, Vernie Angus Cullimore
History - Some of the first settlers of Stringtown, later Lindon, were the Cullimore, Wooley, Brown, Nerdin, Howard and Gillman families, along with Frederick Fowlke. Other early settlers were the White, Davis, Lord, Bezzant, Holland, Harris, Ash, Parks, Fage, Dittmore, Wright, Mayhew, Rogers, and Wadley families, along with the Elias Aston family. The first couple married in the new settlement were Clara Fowlke, and James Cullimore.
The first baby girl born in this town was James and Clara's daughter, Elizabeth. She was born in a dugout with a dirt roof and floor. Frederick Fowlke and James Cullimore later started a coffin-making business.
The first homes of the settlers were meagerly furnished. Most of the furniture was handmade from native wood. Their beds and chairs were made of willows tied with buckskin. They slept on ticks stuffed with straw, feathers, or cattail down. Their clothing was homemade. Most families owned a few sheep, and the wool was spun into cloth. The men's trousers was made from buckskin. The children went barefoot until cold weather, and then they wore moccasins of buckskins. There was usually no great shortage of food. A variety of vegetables was raised in their gardens, and there were plenty of fish and wild game. (Lindon—Our Town, 1983)
In the 1880 census of Pleasant Grove, John and Harriet Fowlke are shown living in Pleasant Grove next to their son, Frederick and his family, and their daughter Clara, now married to James Cullimore.
It is also said that James and Clara used to sell Honey. Young couples going on dates would stop by their home to buy the honey.
Utah Death Certificate
Family links:
Parents:
John Fowlke (1803 - 1886)
Harriet Raynor Fowlke (1803 - 1888)
Children:
Elizabeth Lettice Cullimore Ash (1865 - 1951)*
William James Cullimore (1866 - 1948)*
Harriett Cullimore Cluff (1868 - 1954)*
Louisa Cullimore (1870 - 1872)*
Albert Lorenzo Cullimore (1872 - 1957)*
Clara Roszina Cullimore Kirk (1875 - 1946)*
Ernest Cullimore (1884 - 1884)*
Vernie Angus Cullimore (1885 - 1885)*
Spouse:
James Cullimore (1840 - 1917)
*Point here for explanation
Burial:
Pleasant Grove City Cemetery
Pleasant Grove
Utah County
Utah, USA
Plot: A-05-003-05
Maintained by: SMSmith
Originally Created by: Utah State Historical So...
Record added: Feb 02, 2000
Find A Grave Memorial# 114587
From:
http://www.findagrave.com/cgi-bin/fg.cgi?page=gr&GRid=114587
Clara's sister, Eliza Fowlke Aston, and Eliza's husband Elias Aston: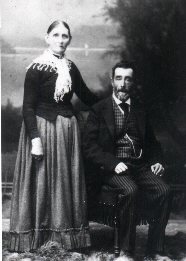 (3rd great-aunt)
From:
http://www.boydhouse.com/alice/Aston/aston02eliasandelizaaston.htm